It was always books for me
.
I was five when I taught myself how to read.
The book was called
The Teeny Tiny Woman
, and I spent hours sitting on my bed, little legs dangling, while I sounded out the words. I don't remember exactly what came before I opened that book, or what came right after, but I remember vividly thinking "
I can read
."
And read I did.
I was seven when my mom bought me my very first
Baby-Sitters Club
book. I read it in one day and made her take me straight back to the bookstore to buy more. And for the next few years, wherever I was, there was always a Baby-Sitters Club book close by.
I read
The Truth About Stacey
in the coatroom at school. I read
The Ghost at Dawn's House
sitting on a bench on the playground while everyone else played dodge-ball. I read
Super Special #5: California Girls
on a family vacation to the Jersey Shore. I read
Kristy and the Snobs
at my best friend's 10th birthday sleepover party. I read
Super Special #2: Baby Sitters' Summer Vacation
during my third summer at sleep-away camp, and I read
Super Special 11: The Baby Sitters Remember
during the spring I was getting ready for my bat mitzvah.
I was twelve when I entered the wonderful world of
Judy Blume
. I lived in Miami Beach with
Sally J. Freedman
, I got my period for the first time and figured out that I could raise one eyebrow with
Margaret
, I was best friends with
Stephanie
and
Rachel
, and I spent some summers with
Vic and Caitlin
long before I was probably old enough to be a part of their story.
While I was reading my way through Judy Blume, I took a spin through the
Nancy Drew and Hardy Boys Supermysteries
, but was always more interested in Fred and Nancy's
romance
than whatever mystery the foursome was out to solve.
During the beginning of high school I read some
Jane Austen
, had an ephemeral obsession with
the Bronte sisters
, and started the
Harry Potter
books as a testament to my eclectic tastes.
I was sixteen when I
read my first romance novel
. I picked up a
Nora Roberts
book that my mom had left on the coffee table, read the entire thing in a single sitting, scoured her bookshelves for more, and began a love affair that has lasted for more than a decade. These are the books that
bind me to the women in my family
. They are the stories that comforted me on my
first night of college
, offered me an escape from a
very sad summer
, gave me sanity when I felt like
everything was in chaos
, and made my brand new house
feel like home
.
The story of my life is in the pages of the books that live on the shelves in the corner of my living room. The books that have been my loyal friends and constant companions as I have grown and changed and become who I am. And I may not know exactly what the future has in store for me, and where I will go from here. But I do know one thing for sure.
There will be a book in my hand as I figure it out.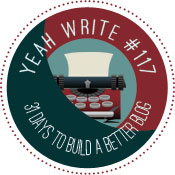 Linking up with the Yeah Write Challenge Grid and
Yeah Write's 31 Days to Build a Better Blog.