The wind raged, the rain lashed at the windows and the lights flickered. Hurricane Sandy had swept ashore, and she was mad.
I had been pretty cavalier about this storm. I ignored the severity of my closed office and the shuttered subway. I went for a run even as the NYPD urged people to stay inside, and wrote a
chatty blog post
about it. I wasn't worried about this category 1 storm. My family lived in Florida for 12 years after all. Show me a category five, I thought, and then I'll be impressed.
But that was day, and now it was night, and half of Manhattan was in darkness.
My lights were still on, but since we were about to move we had already switched the cable and internet to our new house, so I couldn't watch any news, or even the Gilmore Girls marathon I had saved on my DVR. Our temporary internet wasn't fast enough for streaming, so I had little entertainment to distract me from the Armageddon befalling my city.
So there I sat, filling pots with water and checking to make sure all my devices were plugged in so they would be fully charged in case we, too, ended up in the dark.
I hadn't spent much time on Twitter before the night that Sandy arrived, but without TV, it became my lifeline. Every time I refreshed the screen more tweets would pop up with pictures of the devastation in lower Manhattan. I watched as the streets and river became one. I saw the water pour into the 9/11 memorial site. I was sitting there when NYU Hospital's generator failed and nurses carried tiny babies down stairs and out into the storm.
And as each story broke, I shook a little harder. My heart pounded a little faster. The walls of my tiny Manhattan apartment closed in a little more.
I knew I should get off Twitter before I really lost it, but it was like driving past a bad car accident. You know you shouldn't look, but you can't help yourself.
In an effort to calm down, I joined a Twitter conversation with
Yeah Writers
, and fellow tri-state area residents
Stacie
,
Michelle
and
Kristin
. We had never met in person, but that didn't matter. We had read each other's blogs, commented on each other's stories, and learned about each other's lives. And as the storm raged, we talked about what we were eating and drinking, who still had power, and what we were writing about. We talked about how our houses and families were fairing, and wondered how long the whole thing would last. We were each other's windows to a world that had suddenly become very, very dark, and with them, I didn't feel so alone anymore.
Sometimes there are people who come into your life at exactly the right time, and touch it in unexpected and important ways.
These three ladies are those people, and their friendship during that long, scary night gave me shelter from the storm.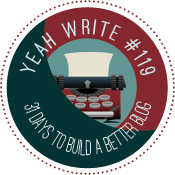 Day 22 of Yeah Write's 31dbbb series asked us to pay special attention to a reader.
These three readers are not only incredible writers, but very, very special people as well.
I am lucky to know them in this online world, and to call them my friends.